Ever thought of the possibility of making perfect and colorful socks just for you? Then, you need to know the pros and cons of the material you choose for your custom-made socks. Keep reading to find out how you can easily, quickly, and cheaply make custom socks with a logo that accurately represents your brand and company.
For example, assuming the customized socks are for daily usage, sporting, work, formal setting, summer, or winter, the type of material you may need to use would be highly dependent on these criteria.
 As we advance, You will learn about the many materials used to make thermal socks and the best material combination that is perfect for you.
Materials used to make socks
Cotton is the most used material in making socks because of its daily useability. Cotton is a good material for socks because it is light and absorbs moisture from your feet quickly. This keeps your feet dry and comfortable at all times.  However, using cotton to make socks isn't always a good idea. The problem with these moisture-wicking socks is that they soak up water easily, which can irritate your skin, especially if you wear them for a long time while wet.
With the advantages and disadvantages of cotton material, you can now choose if it suits the purpose for which you are customizing the socks. Like, for daily use, simple shoes or sneakers. It can work for you, but if you need personalized stockings for physically exerting activities like exercises, running, or dancing, 100% cotton socks would not be advisable. 
After cotton, the following most used material for making socks is wool. Because wool fiber is known to spring back to its original shape when stretched, using it to make socks helps the socks maintain their wrinkle-free appearance. That's not all! Not only is the wool material wrinkle-free, but it is also breathable and comfortable, making it a good choice for wearability. 
Another significant attribute of using wool material for socks for boots is its ability to produce thicker socks that can serve as an insulator during cold seasons like winter due to their chunky and bulky sizes. Wool's insulating properties make it regarded as thermal socks because it can always provide warmth to your feet, even when they may be damp.
Nylon, Polyester, and Bamboo Material
Other materials used for making socks are nylon, polyester, and bamboo. People go for nylon because it is suitable for producing socks that require intense pulling and stretching. At the same time, polyester is the cheaper version of nylon as it serves most functions of nylon. Socks made with polyester material can outlive wear and tear, absorb moisture, and are breathable, making them perfect as football socks.
Bamboo materials, however, are perfect for making moisture-wicking socks due to their outstanding properties. The antimicrobial agent — bamboo Kun, located within the bamboo fiber- makes socks made out of bamboo material have antibacterial qualities, leaving your feet smelling fresh and staying bacteria-free. 
In addition, socks made from bamboo are great at keeping your feet warm in cold seasons and cooling your feet in warmer seasons. It also provides comfort as it is very soft and breathable. The best part – bamboo socks' quality is compatible with people suffering from allergies or skin irritation. 
Bamboo material is best for every occasion where socks are needed. It is excellent for making socks for boots, casual outfits, cold or warm weather, formal outfits, etc.
Best Fabric For Custom Socks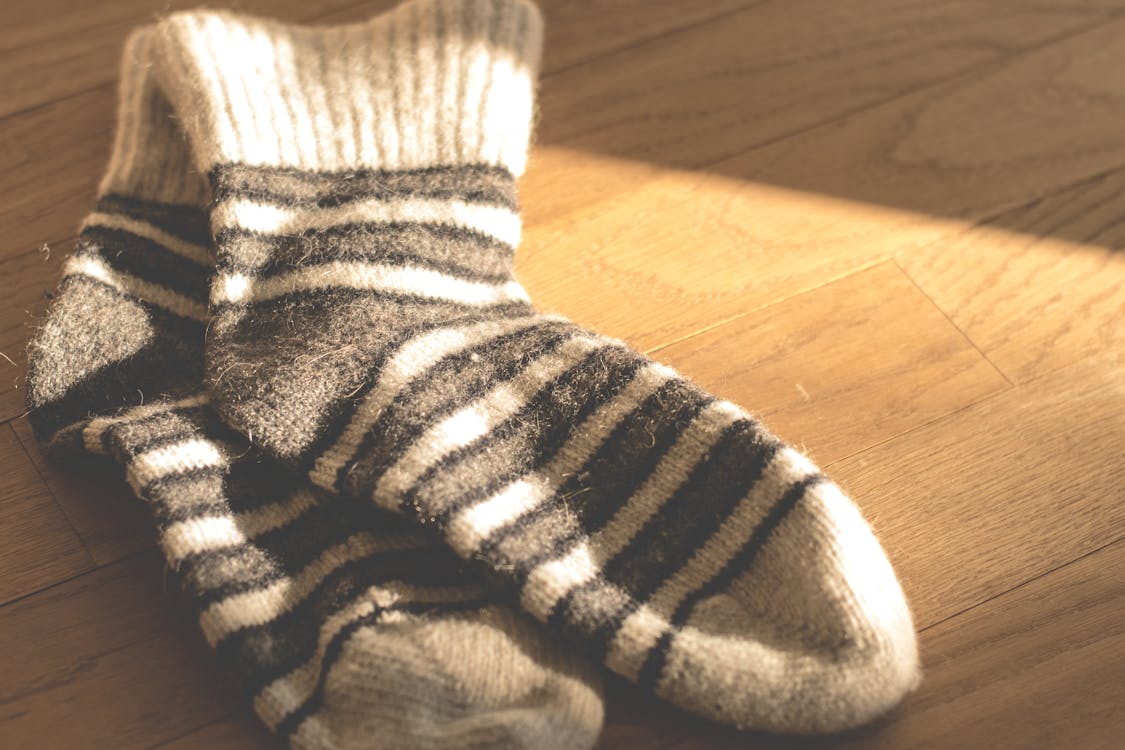 Choosing the best material fabric for making your custom socks is majorly dependent on the design you wish to create on the socks. Supposing your plan requires a repeating pattern or nothing too extravagant, knitted socks are the best fabrication option. This fabrication type is perfect for designing custom socks with logo, making it the ideal choice for businesses/companies to seek. 
For designs with complex color combinations that would not be possible to knit straight on the sock's fabric, dye sublimation would be the fabrication type that can serve such a purpose. The process of dye sublimation involves the generation of an in-depth printout of your chosen design on the fabric of your socks using the heat wave transfer method. This process enables you to customize socks with detailed, vivid images and captivating colors. 
The polyester material is best for dye sublimation as its fabric is synthetic. Finally, the last fabrication type is 360-degree printing. Fabrication type can be seen as an upgraded version of dye sublimation. It enables you to design the graphic on your socks seamlessly without the visibility of white gaps on your socks design. 
This 360-degree printing process helps to enhance color passage into the fabric of the sock, sustaining the image quality even when stretched. This fabrication method allows the most freedom in choosing a design you wish to customize, as it can even print a photograph on your socks.
In conclusion
You should now be able to determine the best material for your customized socks as well as the steps involved in their manufacture. So, do you want to get started on this and put those designs into action?  Well, what are you waiting for? Get your socks and get started on creating those custom designs.